Kim and Christian of KC Design Co. share their advice on how to choose the perfect style for your dining room rug plus what fiber qualities to look for.

Hi Friends!  Have you ever thought about adding a rug to your dining room and are unsure about where to begin? I had been considering one for a while too, years to be exact, and I couldn't be happier with our decision to finally go for it.  Area rugs add a level of warmth, style and can instantly elevate the design of any space. Now we're wondering why our dining room was without one for so long.

Recently, Mohawk reached out to us about trying their SmartStrand custom bound area rugs, and I jumped at the opportunity. As previous SmartStrand customers, I knew that if the durability of their carpet could hold up to our nephews and two cats for the past 5 years, it could hold up to the walking, chair moving, food dropping and occasional spills of any dining space.

Now the question is how do you go about choosing the right rug for a dining room? I have narrowed it down to three key elements to consider before making your purchase – style, durability and size. I will walk you through each one to help you find the perfect area rug for the dining room in your home.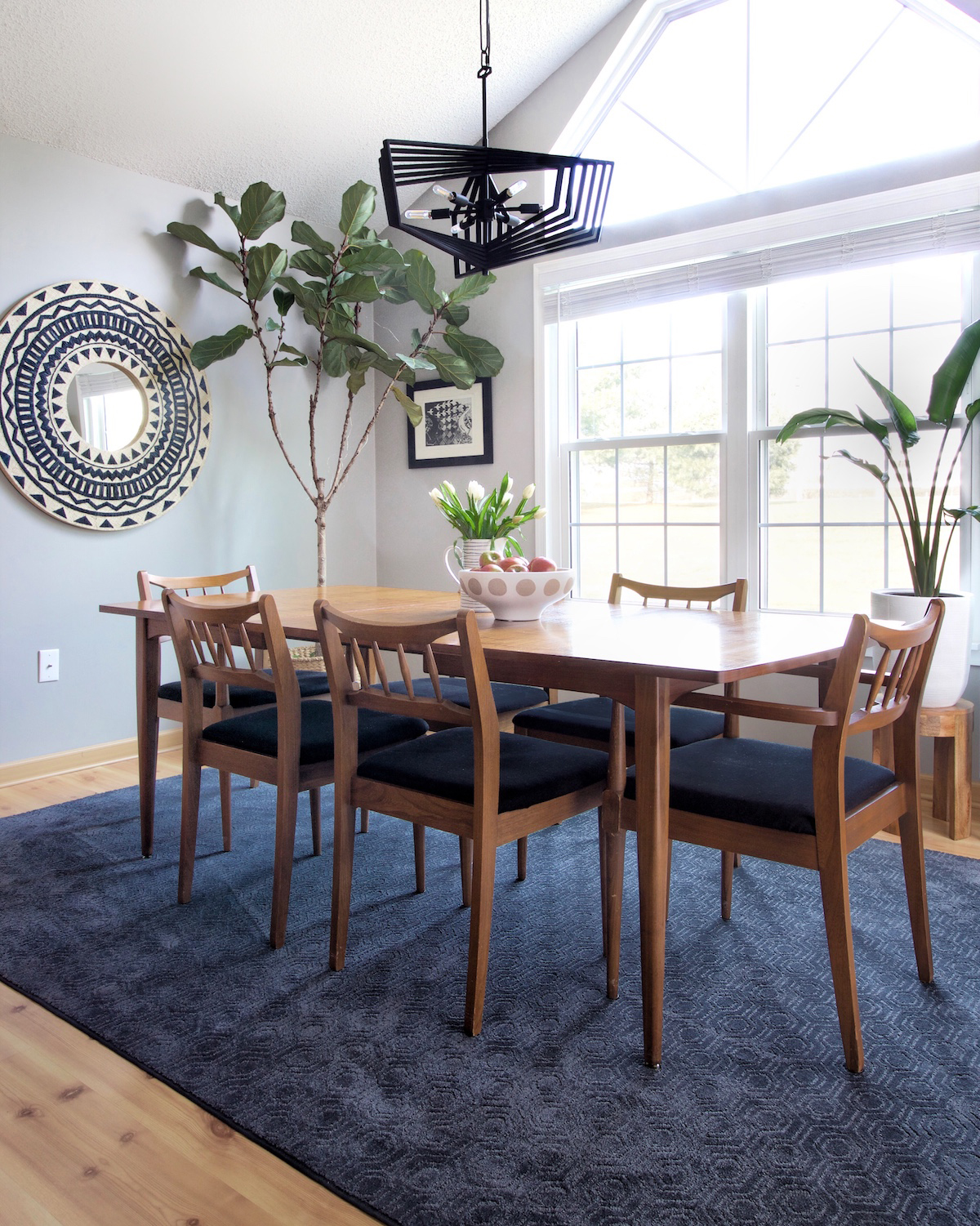 Style
This one is always the most fun. There are endless possibilities of color, pattern, and texture. An area rug can be used to brighten a space, add a pop of color in a room or have it tie all the other elements together. With endless aesthetic options, you want to carefully consider one aspect of style and that is pile height. The dining room is a gathering spot of the home. You want to make sure any crumbs can easily be cleaned up and chairs can effortlessly slide in and out. Having a low pile or flatweave will make clean up and movability a breeze. The pile height of the one I chose is just under .4 inches.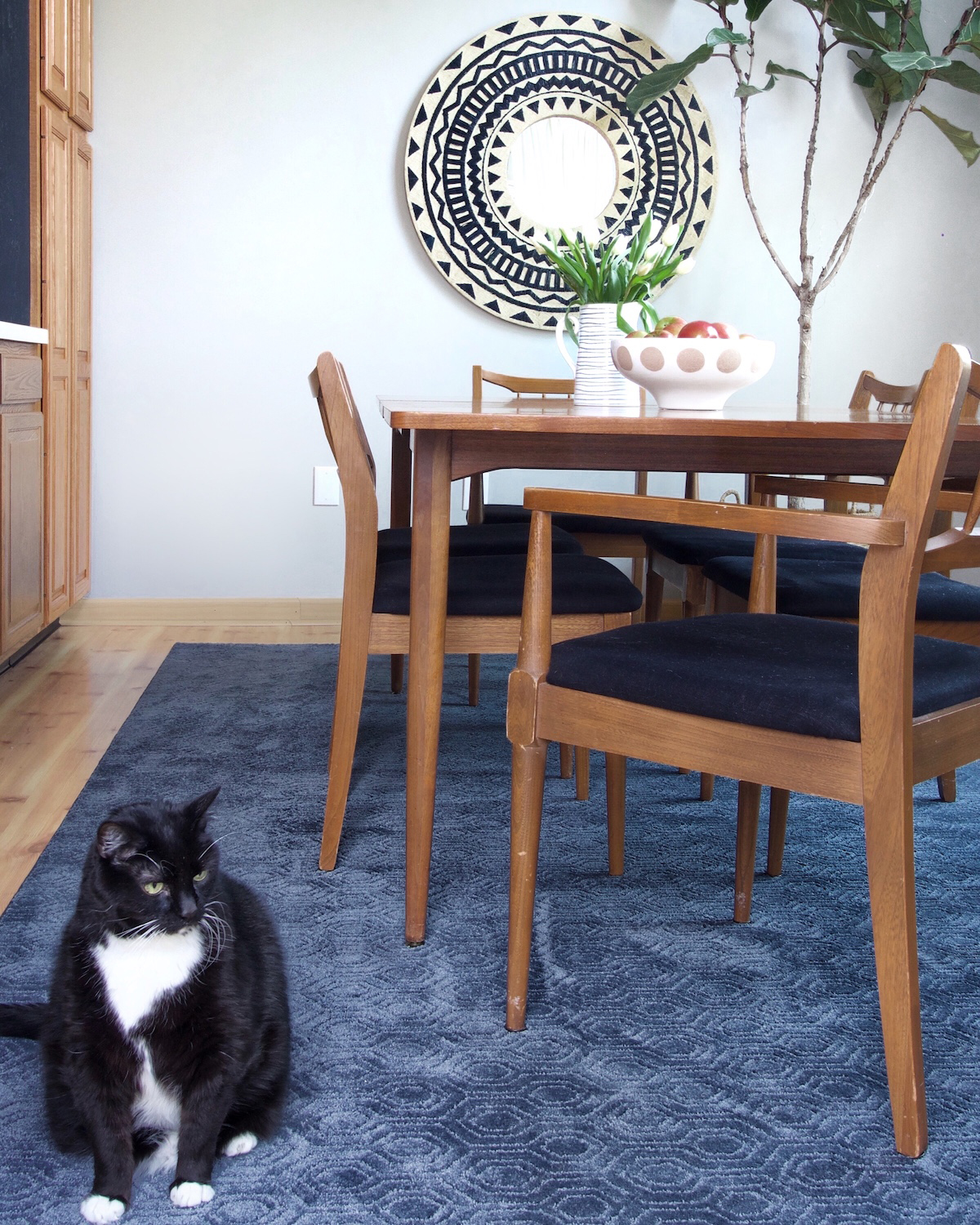 Durability
I can't stress this one enough! Having an area rug that can withstand food, drink and lots of foot traffic is really important, in our case pets too. Take some time to do a little extra research before making your purchase. Check to see if it has stain resistant properties and is recommended for higher traffic areas. I have seen plenty of rugs not hold up to the consistent use of space. You want to make sure your rug is sure to last. SmartStrand carpet has stain resistance built right into the fiber, so it will never wear or wash off. Those little accidents that happen from time to time have been no match to our new SmartStand area rug, our cats can attest to it.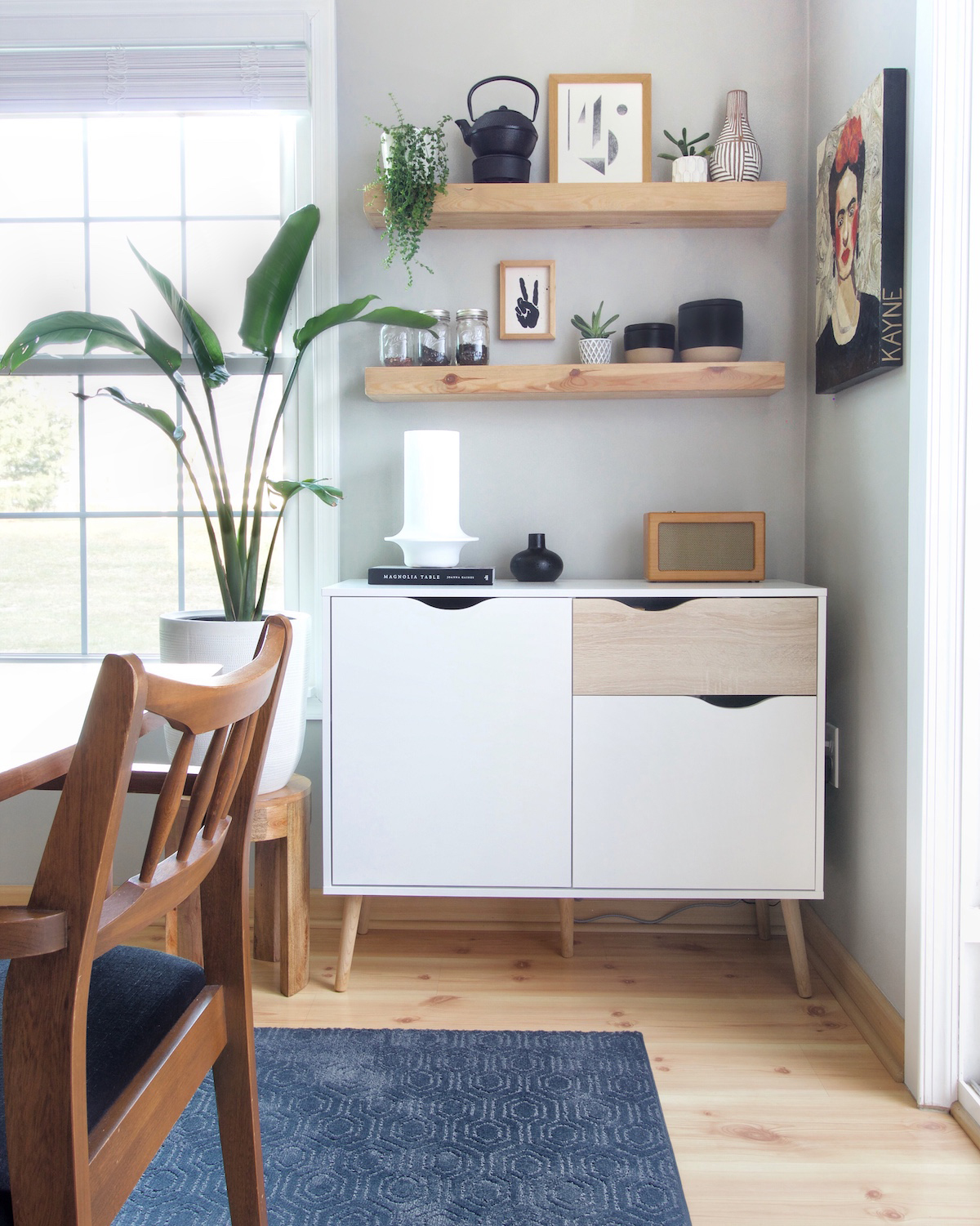 Size
When it comes to the size of an area rug, the numbers can be pretty cut and dry. Having 24?- 36? inches from the edge of the table to the edge of the rug will allow chairs to slide easily. Also, 12?- 18? inches from rug to the border of the room will help to fill the space. However, in my experience with interior design, the numbers are rarely that exact, and homes don't always fall into the super specific categories of 8'x10' or 9'x12'. That's why I love the option of a custom bound area rug. While keeping with the sizing guidelines, I was able to add extra length and shrink the width of our area rug to best fit our dining space needs. A total win in my book.

One of the best parts about choosing an area rug for your dining room is getting to add a little unexpected style to your space. Feel free to experiment with color, texture and pattern but be sure to consider the durability and size. I hope you enjoyed our tips for choosing the perfect dining room rug for your home.

There are always more tips for the home popping up on our Instagram and website. If you have the chance, be sure to take a look!

Kim